Certified Company
Kshitij Group, was founded in the year 1994, by Shri Pagur Desai, an entrepreneur, who entered this core sector business, with a vision of providing affordable Housing solutions.
Innovative Realtors,  who are known to deliver the best of Lifestyle by,  maintaining the spirit of creativity and perfection of Quality.  An ISO 9001:2008 certification granted to the Organization for it's QUALITY MANAGEMENT SYSTEMS speaks volumes for itself.
Since establishment,  the Organization has developed and delivered around three million square feet of project area; counting successes not in terms of financial gains but the numbers of satisfied customers it has catered to.  It is known to deliver all it's promises not just in words, but also in it's TRUE spirit.  It is for these traits of the Organization that they have been felicitated with a prestigious national award of the highest stature the, "THE RASTRIYA NIRMAN RATTAN AWARD".
Today, KSHITIJ group has firmly established itself among the premium brand of property developers in Maharashtra, truly standing for "Reliability, Quality Construction and Value for Money".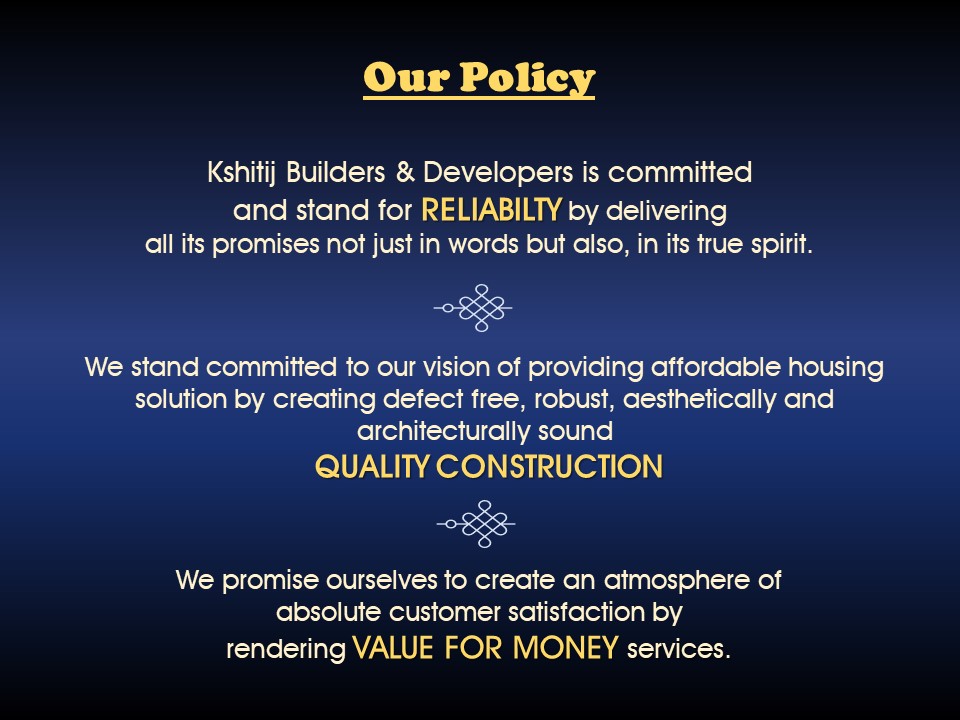 Testimonials
Hear from our Customers !
I had a dream to build a house in life time and it is my first house. I am now living in Israel.This gentleman made my dream fullfilled. He build my house just like his own house. Really he is just a honest, humble guye. Always giving more than expectations. He just read your mind and dream and make it possible. Simple bravo, marvalous job!! Well Done!!!!
All your employers who work in the office & at the site are very helpful. They understand our needs & try to fulfill the needs as per our expectation.
All the Kshitij Staff were co-operative & helps us to get work done in time.
Very trustful people, committed & value for money.